LESBIANIGHTLIFE

Fusion 2017 - 9th Annual Women's Pool Party
Saturday August 5, 2017
http://www.lesbiannightlife.com/fusion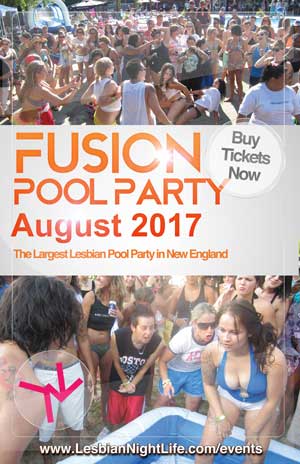 The only way to beat the summer heat? A pool party of course!
Fusion returns in 2017 for it's 9th Annual Women's Pool Party!
Every year at Fusion we feature different dj's, live entertainment, games, activities, and more. We've had many guest over the years, including Whitney Mixter (the Real L Word), Hunter Valentine, Pepper Mashay; comedians Mimi Gonzalez, Susan Westenhoeffer, Chantel, Jackie Monahan; local musicians Karen Grenier, Lauren Bateman, and the Candance Brooks Band just to hi-light a few of the people and performers who have been to Fusion.
This year we've changed the day - and Fusion will be on Saturday August 5, 2017!
Online tickets for Fusion 2017 will be on sale Spring 2017. Visit www.lesbiannightlife.com/fusion to purchase.